School Violence Around the World Date Stats It's Not Always About the Gun School Violence Links Guest Book Email Me
---
Amish Grace from Lifetime TV
A powerful move centering around the fictional family of Marian Fisher and the Amish way of life. It does not show anything of what happened inside the little school room, so you may want to familiarize yourself with what happened at Nickel Mines on October 2, 2006, before watching the movie. First aired on Lifetime TV in the summer of 2010.
---
Babyface Killers by Clifford L. Lindecker
The source for most of my early entries. Published by St. Martin's Paperbacks, ISBN: 0-312-97032-3, 305 pages
---
Best Practices of Youth Violence Prevention: A Sourcebook for Community Action - September 2000
This sourcebook was compiled and edited by Timothy N. Thornton, M.P.A., Carole A. Craft, Linda L. Dahlberg, Ph.D., Barbara S. Lynch, Ph.D. and Katie Baer, M.P.H. from the Center for Disease Control and Prevention offices in Atlanta, Georgia. 216 pages
---
The Bully Free Classroom Updated Edition by Allan L. Beane, Ph.D.
The Bully Free Classroom offers over 100 tips and strategies for teachers K-8 to keep the bully out of their classroom. It includes 45 pages of reproducible handout masters. The book was awarded the Learning Magazine Teacher's Choice Award. Available at Amazon.com. Published by Free Spirit Publishing, 166 pages, ISBN 1-57542-054-6.
---
Brockway High by Zoey Hardy
Brockway High is a fictional book of a school shooting. It is a very good story told from the point of view of a young girl who befriends the school's loaner and how her friends treat her for doing so. Pick it up for a read and see how much pressure our teens have at school every day. Published by Eudon Publishing, ISBN 0-9765423-1-5
---
Child's Prey by Jon Bellini
The retelling of Luke Woodham's life, including his attack on Pearl High School, Pearl, Mississippi on October 1, 1997. Published by Pinnacle Books, ISBN: 0-7860-1166-1, 315 pages.
---
The Chumscrubber from DreamWorks Home Entertainment
This movie shows how today's families are lacking in communication. Dean Stiffle (Jamie Bell) discovers the body of his best friend and doesn't bother telling any of the parents in his post-card perfect California neighborhood. Released in 2006, 1 hour and 47 minutes long.
---
The Columbine Report
Whether you get the Sheriff's Report on CD, or the thousands (over 15,000 at my last count) of pages available from the Jefferson County Sheriff's Office, read it all and you'll come away with more unanswered questions. Available from the Jefferson County Sheriff's Office in Golden, Colorado.
---
Comprehending Columbine by Ralph W. Larkin
Ralph W. Larkin, Ph.D. is owner of Academic Research Consulting Service and a Senior Research Associate, John Jay College of Criminal Justice, City University of New York. "Larkin creates a powerful lens to examine the complexities of the forces which contributed to the Columbine tragedy. The introductory narrative of the rampage is so vivid that both the casual and studied reader will be instantly engaged.... Drawing on his skill as an interviewer and researcher, Larkin is able to give the reader a glimpse of the cultural and everyday social reality of Columbine High School [and he] does an excellent job of situating school shootings in the larger cultural landscape of violence in America. Larkin's book is destined to be the definitive work on the Columbine shootings." óRaymond Calluori, New Jersey Institute of Technology. Published by Temple University Press, 264 pages, ISBN: 1592134912.
---
Dawn Anna from Lifetime TV
A powerful movie centering on Dawn Anna, the mother of Lauren Townsend, of the Angels of Columbine. As Dawn struggles through her own life of dating again, work and making ends meet, she drops off her daughter Lauren at school one day like she has all the others. Only this time, it is Tuesday, April 20, 1999. First aired on Lifetime TV in January 2005.
---
Deadly Lessons: Understanding Lethal School Violence compiled by the National Research Council
Provides the outcome of the National Research Council's unique effort to glean lessons from six case studies of lethal student violence. These are powerful stories of parents and teachers and troubled youths, presenting the tragic complexity of the young shooter's social and personal circumstances in rich detail. Published by National Academies Press, ISBN: 0-30908-412-1, 325 pages.
---
Go Ask Alice by Anonymous
The harrowing true story of a teenager's descent into the seductive world of drugs. A diary so honest you may think you know Alice - or someone like her. Read her diary. Enter her world. You'll never be able to forget Alice. First published in 1971, currently by Aladdin Paperbacks, ISBN: 0-689-81785-1, 185 pages.
---
Hostage High from TVA Films
This movie from TVA Films takes the Lindhurst, California, school shooting and siege from May 1, 1992 and moves it to Utah in the late winter. Rick Schroder plays shooter Eric Houston and Henry Winkler plays the police officer negotiating a peaceful end. Watch the movie, and then watch it again with the commentary. 93 minutes.
---
Lucky by Alice Sebold
Alice retells her horrifying experience of being raped when she was 18-years-old Syracuse freshman in a park near the university. Through grit she is able to secure her attacker's arrest and conviction. Published by Little, Brown and Company, ISBN: 0-316-09619-9, 250 pages.
---
Lynch Street by Tim Spofford
The retelling of the May 14, 1970 slayings at Jackson State College in Jackson, Mississippi. Published by The Kent State University Press, ISBN: 0-87338-355-9, 219 pages.
---
Managing Violence in the Workplace, Managing Violence and Gangs in Schools and Kids Killing Kids coauthored by Dr. Tom Capozzoli
Dr. Tom Capozzoli, coauthor of three books (Managing Violence in the Workplace, Managing Violence and Gangs in Schools and Kids Killing Kids), has been researching workplace and school violence since 1993. His excellent books are available on Amazon.com.
---
No Easy Answers by Brooks Brown and Rob Merritt
Brooks Brown tells his story, from being Dylan Klebold's best friend in grade school all the way to when Eric Harris told him to go home before the two began killing their classmates at Columbine High School. Printed by Lantern Books, ISBN: 1-59056-031-0, 270 pages.
---
The Orangeburg Massacre by Jack Bass and Jack Nelson
A gripping tale of the massacre at South Carolina State College on February 8, 1968. Published by Mercer University Press, ISBN: 0-86554-552-9, 248 pages.
---
Rachel's Tears and its Sequels
Rachel Scott was the first student to die in the Columbine massacre. This is the first in a series of books by her parents, Beth Nimmo and Darrell Scott, of how their daughter has started a chain reaction to change the world.
---
Rampage: The Social Roots of School Shootings by Katherine Newman
Despite the rarity of school shootings, a point carefully reiterated by the authors-anthropologist Newman and four students in a doctoral program she directs at Harvard University-it continues to be a topic that both repels and fascinates. Through an in-depth study of two pre-Columbine shootings, one at Heath High School in Kentucky, the other at Westside Middle School in Arkansas, the authors attempt to answer two troubling questions: "How could these low-crime, family-centered, white communities have spawned such murderous violence? How did these particular families, known and respected by neighbors, teachers and preachers, produce rampage killers?" Because the book grew out of research the five contributed to a congressionally mandated study, the authors had extraordinary access to residents in both communities and are donating their royalties to the two schools. Published by Basic Books, ISBN: 0-46505-104-9, 399 pages.
---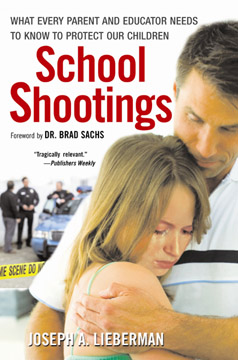 School Shootings - What Every Parent and Educator Needs to Know to Protect Our Children by Joseph Lieberman
Joseph Lieberman follows up The Shooting Game, published in March 2006, with this updated version, re-titled School Shootings - What Every Parent and Educator Needs to Know to Protect Our Children. School Shootings will cover all that we have learned and lost since spring 2006 and is being released Aug. 26, 2008. The new publisher is Kensington Books (under the *Citadel* imprint), based in New York City. For more info, check out www.schoolshootingsbook.com.
The multiple shootings in fall 2006 (including that little Amish school) and the tragedies at Virginia Tech in 2007 and N.I.U. on Valentines Day 2008 necessitated a rewriting of Lieberman's previous book, The Shooting Game, which has been withdrawn. His new book can be ordered from his www.schoolshootingsbook.com website, or for discounted bulk or education orders, go direct to the publisher at http://www.kensingtonbooks.com/finditem.cfm?itemid=12887
As of July 2012, the book is also available for the Amazon Kindle.
From the webmaster: The massive list of acts of school violence that I have here on Columbine-Angels is referenced in School Shootings, and there is a link to this website. Please help Joseph and I inform others on how often school violence happens in our society today.