A Columbine Family's Request
---
I've been asked to create this page at the request of one of the Columbine Survivor families. This request stems from unanswered questions from the night of January 30, 1998 when Eric and Dylan were arrested for breaking into a van and stealing items contained their in.
In November of 2000, the Jefferson County Sheriff's Office released 11,000 pages of interviews and reports to the public. In the 11,000 pages are reports from the arresting officers of January 30, 1998. They can be found at pages 10560 through 10603. The entire 11,000 pages can be downloaded from the Boulder News here. Page 10589 is a drawing by Eric of the scene that night. His drawing is below.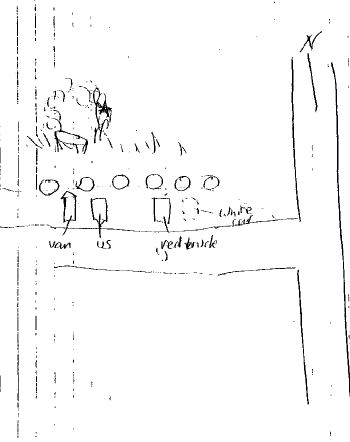 The drawing depicts where the van was, where Eric and Dylan were and where a couple of other vehicles were parked that night. The circles above the cars are rocks that divide the parking area from a field. This happened along Dear Creek Canyon Road in Littleton. Above the rocks is a field of weeds with no distinguishing natural landmarks of any sort. However, as you can see, Eric drew something there.
Some have speculated what this picture represents. The following explains what they see. Look at the picture carefully, it maybe better to print this page so that you can see it better. Take a bottle of white out and remove the horizontal page lines. Next remove the three angled lines just above the center left of the drawing. Next remove the swirls of the drawing, leaving the right part of the drawing alone. If you did this right, what should be left is a drawing of person on all fours with another person standing behind them. Notice how the standing person has a star on his chest. Some people believe that the drawing is of a child being sexually assaulted by a police officer. Below are their arguments for their case.
After their arrest, Eric and Dylan attended anger management classes. Their is a group of people independently researching the Columbine massacre and have always wondered why the boys were sentenced to anger management classes for breaking into a van. This drawing may explain that reason.

Dylan wrote in his statement that same night "then the officer saw us, TOOK ALL THAT WE HAD, and went through the process." He stated at another point "my wrath for January's incident will be Godlike, not to mention our revenge in the commons." A normal arrest procedure should not have instilled such wrath in an individual.

Eric wrote on his website "If I have any more trouble with the cops, I'm going to lose it." He also wrote two months later that the boys were looking for a place for "ground zero" for their revenge, a full 13 months before the Columbine massacre. He also wrote this "Know what I love!!!? School! You know what I hate!!!? Schoolwork!" This gives credit that Eric could have been a traumatized boy in anger management classes who loves school, hates the cops and is looking for a place for ground zero. The boys did a lot of work in planting bombs at Columbine, in their cars and around the Angels, to kill cops as they investigated the aftermath.

A story in the Boulder News from December 7, 2000 by Wayne Laugesen reports "The arrest of the boys following the van break-in was clearly a traumatic, life changing experience. How do we know this? Klebold's dad told the judge so, during a hearing about the break-in. 'This has been a rather traumatic experience,' the father said."

From the time the arresting officer approached the boys in the car parked where they were examining their haul from the van, 90 minutes had passed before Eric signed his Miranda rights in front of his parents.

One of the arresting officers pummeled a lawyer repeatedly, and the act is on videotape

A friend of this family has had numerous encounters with one of the arresting officers, including verbal and physical, and believes firmly that this officer is in no way a model law enforcement individual

Dylan's full autopsy report has not been released because it might "offend" certain groups in the community. After reading the full autopsy of Eric, Isaiah and Daniel Rohrbough, there is nothing that I find offensive; gruesome, yes, but not offensive. What is it about Dylan's body that would "offend" certain groups in the community? Could there be some evidence of the suggested sexual attack that law enforcement does not want to come to light?
The independent group researching the Columbine massacre does have a counterpoint to this theory. They acknowledge that this drawing is open to individual interpretation and no other released-to-the public information is available to support the idea that a sexual assault ever occurred. Furthermore, they have gathered from the police records available to the public that the boys confessed to breaking into a van ten minutes after they were first approached; and that a request was placed to contact both boys' parents before another ten minutes had passed... by the arresting officer. They have suggested investigating the arresting officer further to verify that a pattern can, or cannot, be determined into his actions. It is a good theory, but needs to researched and more evidence brought forward before it becomes plausible. You can read their discussion here.
We do not have all the information of this scenario that Eric drew. Eric drew a crime scene and added a diagram of something that is physically not there. Surely the detectives who took his statement saw this drawing when he showed them picture and pointed where the vehicles were. The picture is not explained in the 11,000 pages. I have come up with three questions which would aid in the research tremendously.
Why would law enforcement officials allow a suspect/witness to draw a crime scene diagram with erroneous data and not question him about it in their report?

If they did question Eric about the drawing, what did he say it was? And why wasn't it included in the final report?
---
About a week after I published this page, this Survivor's family left Littleton for fear of being silenced when the story broke. However, the story did not come out as anticipate, even though Denver's Channel 12 has seen the picture and has been asked by the Survivor's family to investigate. The Survivor's family is looking for new lawyers to aid in them in this fight.
This is one of the many examples of law enforcement keeping the truth from those who are asking questions of their actions. If nothing other than typical arrest procedures happened on January 30, 1998, then why is every question that is coming up about that night met with such defiance that would lead a Survivor of the Columbine massacre to leave his/her home hastily in fear of those who are supposed to be protecting us?
---
I'm past due for an update on this page, quite a bit has happened since I put this page on my site and I hope to provide you with most of the information here.
The family's lawsuit against the Luvox drug company for antidepressants was completely and utterly dropped, even though one of their strongest witnesses said they had a very good chance in winning if the the suit had gone forward. The family, whose finances had already been depleted on physical recovery bills couldn't convince lawyers to work the case until it was won.

The family moved back to Colorado, but not Littleton and is struggling to make ends meet with enormous hospital bills.

Another Columbine Angel family has been harassed and threaten to be less vocal in their continuing fight against the lack of response from law enforcement on April 20, 1999.

Revelation 18:15 states: "The merchants who deal in these goods, who grew rich from business with the city, will keep their distance for fear of the punishment inflicted on her." The family believes this to be a very accurate assessment of the Luvox drug company. The antidepressant drug, and others like it, are not helping this situation at all.

The family shops at the Salvation Army for their clothes and food.

Luvox is designed to work with seizures, but as this family has found out, it is being prescribed for nearly any form of depression or mental illness.

Columbine Connections, the agency set up to help the families and friends cope with the tragedy, is doing less and less counseling and more and more prescribing antidepressants for those very few who still come in.

The families have been lied to in hundreds of way from officials working the case.

Romans 13:1-5 states: "Let everyone obey the authorities that are over him, for there is no authority except from God, and all authority that exists is established by God. As a consequence, the man who opposes authority rebels against the ordinance of God; those who resist thus shall draw condemnation down upon themselves. Rulers cause no fear when a man does what is right but only when hi s conduct is evil. Do you wish to be free from the fear of authority? Do what is right an you will gain its approval, for the ruler is God's servant to work for your good Only if you do wrong ought you to be afraid. It is not without purpose that the ruler carries the sword; he is God's servant, to inflict his avenging wrath upon the wrongdoer. You must obey, then, not only to escape punishment but also for conscience sake." The family believes that everyone should do what is right to finally answer all of the questions raised by the massacre at Columbine High School.

Other scripture readings the family believes reflect what is happening to them include Acts 5:27-29; Matthew 5:43-44; Proverbs 22:4; James 4:6; and Matthew 5:3.

The family would like to ask "What are we, as Christians, doing to help our brothers and sisters still affected by the Columbine massacre?"

---
Here's another brief update of what's been going on in and around the Littleton area.
The family's lawsuit against the makers of Luvox was picked up by another lawyer, but they still need financial help to bring the lawsuit into court. The family is asking for others who have experienced depression and been prescribed anti-depressant drugs to help them with this case.

Donations are greatly appreciated. The family and their lawyer are confident of a win and would reimburse your donation at your request.

The family needs your prayers to help them heal from the Columbine massacre.

---
Never Forget Always Remember