Rachel Joy Scott
---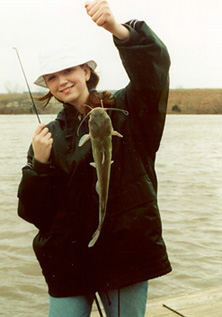 One of the good things to come out of the Columbine shootings was Rachelís funeral. It was the most watched broadcast event in CNNís history. Think about that for just a minute. She wasnít a world leader of a dominant country. She wasnít a princess that the world loved. She wasnít a famous actress that packs theaters. She was a 17-year-old aspiring actress who wanted to do missionary work in Africa. And her funeral was the most watched event in CNNís history. During her funeral, Bruce Porter asked who will pick up the torch that had fallen from Rachel's hand on April 20? Hundreds of students, and thousands around the world stood up to carry on that torch. (It even has it's own website here.) That shows you the vast number of people touched by this tragedy.

All of the signatures and notes on Rachel's casket is truly a humbling sight. As I said before, no truer words could ever be written to someone than when the author is signing his/her casket. I don't know how many people signed her casket with final messages, and I can only image how many more wanted to sign it. Rachel had two dreams to live for, and in her death, she may have achieved both. Millions have heard her story through the Columbine Connections and her father, Darrell Scott, and have opened their hearts to God.

Rachel's friend, Nick Baumgartner, said, as he finished up his 1 minute tribute to Rachel at the memorial at Red Rocks Amphitheater on May 2, "This has been the one minute version of Rachel Scott and, believe me, the 17 year version is a heck of a lot better." When I first heard that, I was crying. Famous people usually get their lives reviewed in about a minute when they receive awards and such, but thatís not the whole person. For Nick to say that, for 1 minute will never fully summarize Rachel Scott, or any of the other 13 Angels, was tremendous. You really had to know her, and unfortunately for me, I first met her on April 21, 1999 when the names were first listed.

I wrote another poem about the shootings and the Angels on May 8, 1999 and wrote this about Rachel:

R

achel Scott a budding actress trying to stop smoking,

A

frican missionary work was her dream.

C

ouldnít read music, making it up as she went along,

H

er red Acura Legend became a shrine, covered in flowers, balloons and teddy bears.

E

very part she portrayed, she put her heart into,

l

onely now her characters stand on an empty stage.

One thing I do know about Rachel for sure is that she enjoyed her time in Albuquerque. She went there during her spring break to purchase items for an apartment her and her friends were going to share. I went there in mid-May, the same week President Clinton was in Littleton, and found hundreds of shops full of items for interior decorating. Albuquerque is a great city and I'm glad that somewhere in that city, Rachel's and my path crossed, even though two months had passed between our visits.

Rachel has two websites in her name, the first one is here and the second one is here.
---
Never Forget Always Remember