Lauren Dawn Townsend
---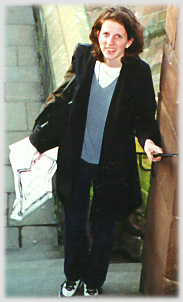 For those of you who haven't seen the crosses of Columbine, you are missing an incredible experience. I've had the extreme fortune of seeing the crosses at Chapel Hill Memorial Gardens in Littleton twice. The crosses were constructed by Greg Zanis from Illinois. Hundreds, more likely thousands, of people have signed the crosses and left mementos dangling from their arms, myself included. I left a set of necklaces on the crosses and through an incredible group of caring people, Lauren's mother Dawn Anna, knows of the necklaces.
Lauren would have been Columbine's 1999 valedictorian. Her parents received her diploma, cap and gown during the graduation ceremonies in May at Fiddler's Green.
Lauren wanted to be a good friend to everybody, and from the people that have written to me because of, and thanked me for, this site, I contribute that to Lauren. I published this site 16 months after the massacre at Columbine, and the heart felt response I'm getting back is tremendous. I've made several new friends since this site's inception, and I believe Lauren will bring me many more friends.
Lauren's website is here.
---
Never Forget Always Remember